Lace Cardstock or
Intracacies
are essentially a sheet of cardstock that has been cut out to leave behind an intracate, interlocking design. There are so many possibilities for designs that it is almost endless. Midnight Oil Scrapbook Design has designs like dog paws, princess crowns, school bus, baseball, football, pirates, butterflies, Mickey Mouse heads, and so much more!
Here are some examples of ways you can use lace cardstock or Intracacies on a layout:
Background

- You can use the Intracacies as a background by gluing it to a sheet of cardstock and creating your layout on top of the design.

Cut it Apart

- Cut out sections of the design to use on your pages. Depending on the design, this might take a little skill making it look even.

Make it a Mask

- You can place the cutout design on a sheet of cardstock and ink, chalk, or glimmer mist over it. Carefully, lift off the Intracacies and the design will be left behind on your cardstock.

Alter it

- You can also use ink, chalk or glimmer mist to change the color of the Intracacies so that it matches your layout. Depending on the design, you may be able to accent a part of the Intracacies by backing a section of it with cardstock. In one of the layouts below, I used some pink cardstock behind one of the white flower Lace Paper to highlight that flower. On MOSD's School Theme Intracacies I think it would be neat to cut out little pictures of the kids and put them in the windows of the school bus.


Make it a Frame

- Use the Intracacies to "frame" your photo. Cut out a portion of the Intracacy so your photo can show through it.
Some Examples: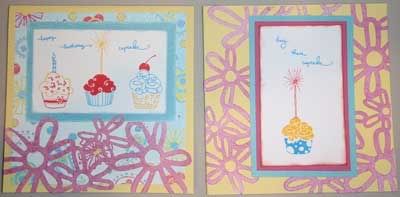 Birthday cards - I colored the white Flower Lace Cardstock with Glimmer Mist - Pink Ink and cut out the design.
Scrapaholix Page Kit
- Same white Flower Lace Cardstock as above, but I didn't color it. I cut out sections and in the top left corner, I accented one flower with pink cardstock. Some of the flowers were placed ontop of the photos...for a change of pace!
MOSD Paw Print Intracacies Example - Used as a background.